Discussion Starter
·
#1
·
I'd been hoping for months that the Motor Reviewer, Sam Woolaston would get his hands on the Mokka and constructively rip it to pieces. Well it is his job to do this but I like reading what he has to say.
Unfortunately Sam was on holiday, so they got the 'Fashion Expert' Alex Petridis to review it. Now I'll point out the Alex normally looks like he got dressed in the dark, in the student clothes section of Oxfam (other leading charity shops are available) so I wasn't holding out for much.
Notice he's spent 1/2 the time taking the pee out of the name and other car names and the other half trying to convince the reader that he's actually seen a Mokka, never mind driven one.
<div id="article-er" style="padding: 0px; margin: 0px; border-collapse: collapse; : relative; min-height: 68px; clear: left; border-color: rgb214, 29, 0; color: rgb51, 51, 51; font-family: arial, sans-serif; line-height: 15px; -repeat: no-repeat no-repeat; "><div id="main-article-info" style="padding: 0px; margin: 0px; border-collapse: collapse; : left; -repeat: no-repeat no-repeat; "><h1 itemprop="name line itemReviewed" style="padding: 0px; margin-right: 0px; margin-bottom: 2px; margin-left: 0px; border-collapse: collapse; border-right-color: rgb214, 29, 0; border-bottom-color: rgb214, 29, 0; border-left-color: rgb214, 29, 0; font-family: georgia, serif; font-weight: normal; font-size: 2.166em; line-height: 1.154; width: 460px; border-top-width: 0px; -repeat: no-repeat no-repeat; ">On the road: Vauxhall Mokka 1.4T AWD Exclusiv 4x4 S/S 5dr</h1>'The new mini-SUV from Vauxhall has an odd design. In fact, it's a bit of a lunk, full of musclebound bulges, like Alex "The Reidinator" Reid on wheels'
<div id="" style="padding: 0px; margin: 0px 0px 10px; border-collapse: collapse; : left; : 2; font-size: 1.166em; line-height: 1.357; width: 460px; color: rgb51, 51, 51; font-family: arial, sans-serif; -repeat: no-repeat no-repeat; "><ul ="article-attributes trackable-component b4" -component="Article:byline" style="padding: 2px 0px 12px; margin: 0px 0px 10px; border-collapse: collapse; list-style-: none; border-color: rgb214, 29, 0; border-top-width: 1px; border-top-style: solid; border-bottom-width: 1px; border-bottom-style: solid; font-size: 12px; line-height: 1.25; : relative; overflow: ; min-height: 66px; -repeat: no-repeat no-repeat; "><li style="padding: 0px; margin: 0px; border-collapse: collapse; overflow: ; -repeat: no-repeat no-repeat; ">

<li id="contrib-shift" style="padding: 0px; margin: 0px; border-collapse: collapse; : ; left: 70px; top: 5px; overflow: ; -repeat: no-repeat no-repeat; "><ul style="padding: 0px; margin: 0px; border-collapse: collapse; list-style-: none; -repeat: no-repeat no-repeat; "><li ="byline" style="padding: 0px; margin: 0px; border-collapse: collapse; overflow: ; display: block; -repeat: no-repeat no-repeat; "><div ="contributor-full" style="padding: 0px; margin: 0px; border-collapse: collapse; -repeat: no-repeat no-repeat; ">
Alexis Petridis
<li ="publication" style="padding: 0px; margin: 0px; border-collapse: collapse; overflow: ; -repeat: no-repeat no-repeat; ">
The Guardian
,<time itemprop="datePublished" datetime="2013-03-30" pubdate="" style="padding: 0px; margin: 0px; border-collapse: collapse; -repeat: no-repeat no-repeat; ">Saturday 30 March 2013</time><li ="comment-count" style="padding: 0px; margin: 3px 0px 0px; border-collapse: collapse; overflow: ; -repeat: no-repeat no-repeat; ">
Jump to comments(4)
[/list][/list]<div id="article-wrapper" ="trackable-component" itemprop="review" -component="Article:in " style="padding: 0px; margin: 0px; border-collapse: collapse; : static !imant; -repeat: no-repeat no-repeat; "><div id="main--picture" itemscope="" itemprop="" item="http://schema.org/" style="padding: 0px; margin: 0px 0px 14px; border-collapse: collapse; -repeat: no-repeat no-repeat; ">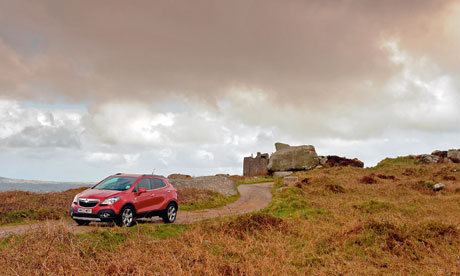 <div ="caption" itemprop="caption" style="padding: 0px; margin: 0px; border-collapse: collapse; color: rgb102, 102, 102; font-size: 12px; -repeat: no-repeat no-repeat; ">The Vauxhall Mokka 1.4T AWD Exclusiv 4x4 S/S 5dr: 'Who names a car after a misspelled foodstuff?' Photographs: Simon Stuart-Miller for the Guardian
<div id="article--blocks" style="padding: 0px; margin: 0px; border-collapse: collapse; -repeat: no-repeat no-repeat; ">Recently, Kia launched a "sleek, low, yet muscular coupé""¦ cheeky and cheerful in its compactness", its name "hinting at the fun on the open road". It was all going well until news of its name reached Northern Ireland, where, for some reason, people started objecting tothe idea of popping to the shops in aProvo.Here was further evidence that naming a car is a tricky business. There are cars, such as the Provo, whose name signifies something other than the manufacturers intended: a big hand, so to speak, for the Ford Pinto or, as it appeared to be called in Brazil, theFord Small Penis. And there are those whose names just signify bafflement: the Daihatsu Social Pose, the Mitsubishi Urban Sandal and """ my favourite, from Honda """ the Life Dunk, whichsounds like something you goto atherapist about.Into this latter category comes
Vauxhall
's mini-SUV, the Mokka. Itsname is presumably meant to signify coffee """ or, rather, kkoffee """ but why? Who names a car after amisspelled foodstuff? What are theygoing to launch next? The Vauxhall Pakket Of Kkrisps?It's not the only question the Mokka poses. It has an odd design. Itlooks huge from the outside: tall and determinedly macho. "The driver of this car does not have apinto" """ that seems to be the message. In fact, it's a bit of a lunk, full of musclebound bulges, like Alex "The Reidinator" Reid on wheels. Inside, however, while you're seated high up, the interior feels narrow """ you could get three people in the back only if they were keen to get to know each other an awful lot better """ and the boot's not particularly capacious either, smaller than both of the Mokka's compeT*Tors, the Nissan Qashquai or the Skoda Yeti.It's well-equipped """ you get a DAB radio and air conditioning even on the basic model, and storage compartments up the wazoo """ without feeling particularly exciting. And it's competent rather than great to drive. More agile than you'd think, given how tall it is, and apparently alot better than it was (initial reviews were so bad, Vauxhall was forced to revise its steering and suspension), but you'd describe the experience asinoffensive rather than fun.Perhaps that's the point. Vauxhall has claimed the Mokka is aimed at "empty nesters""¦ who like to carry bikes". As target markets go, that seems erring on the specific side, but then maybe they'll find the goodvalue, practicality and, indeed, the bike rack that slides out of the rear bumper override the lack of thrills. For anyone else, as mokkas go, it's a bit lukkewarm.<h2 style="padding: 2px 0px; margin: 20px 0px 10px; border-collapse: collapse; font-size: 1em; line-height: 17px; border-color: rgb153, 153, 153; border-top-width: 1px; border-top-style: dotted; clear: left; border-bottom-width: 1px; border-bottom-style: dotted; -: 0% 100%; -repeat: no-repeat no-repeat; ">Vauxhall Mokka 1.4T AWD Exclusiv 4x4 S/S 5dr</h2>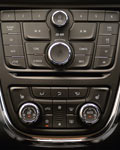 <strong style="padding: 0px; margin: 0px; border-collapse: collapse; -repeat: no-repeat no-repeat; ">Price as tested £20,200<br style="padding: 0px; margin: 0px; border-collapse: collapse; -repeat: no-repeat no-repeat; "><strong style="padding: 0px; margin: 0px; border-collapse: collapse; -repeat: no-repeat no-repeat; ">Top speed 118mph<br style="padding: 0px; margin: 0px; border-collapse: collapse; -repeat: no-repeat no-repeat; "><strong style="padding: 0px; margin: 0px; border-collapse: collapse; -repeat: no-repeat no-repeat; ">Acceleration 0-6mph in 9.4 seconds<br style="padding: 0px; margin: 0px; border-collapse: collapse; -repeat: no-repeat no-repeat; "><strong style="padding: 0px; margin: 0px; border-collapse: collapse; -repeat: no-repeat no-repeat; ">Combined fuel consumption 44.1mpg<br style="padding: 0px; margin: 0px; border-collapse: collapse; -repeat: no-repeat no-repeat; "><strong style="padding: 0px; margin: 0px; border-collapse: collapse; -repeat: no-repeat no-repeat; ">CO2 emissions 149g/km<br style="padding: 0px; margin: 0px; border-collapse: collapse; -repeat: no-repeat no-repeat; "><strong style="padding: 0px; margin: 0px; border-collapse: collapse; -repeat: no-repeat no-repeat; ">Green rating 5/10<br style="padding: 0px; margin: 0px; border-collapse: collapse; -repeat: no-repeat no-repeat; "><strong style="padding: 0px; margin: 0px; border-collapse: collapse; -repeat: no-repeat no-repeat; ">Cool rating 3/10